9 Must-Try Vietnamese Drinks – Part 2
By Jenna Jolie
Trà Atisô (Artichoke Tea)
The go-to drink for hungover Vietnamese men, trà atisô is believed to have liver-cleansing and detoxifying properties. There are two versions of the tea, which is usually served with ice—the sweetened yellowish version made from the artichoke flower and the intensely bitter black version made from the artichoke stems.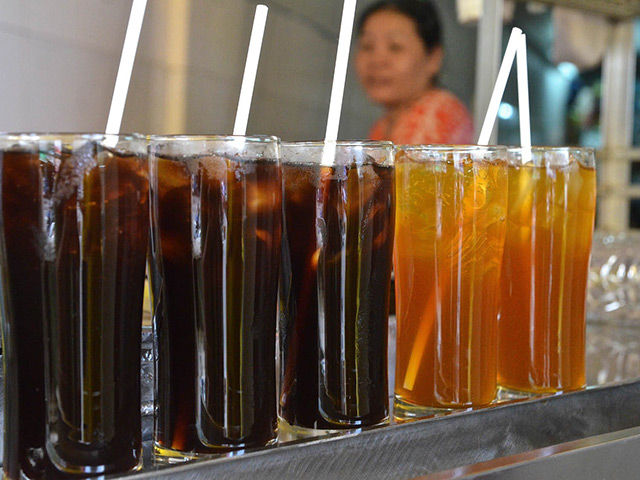 Artichokes are grown in Dalat in Vietnam's cool Central Highlands but packets of artichoke tea are available in supermarkets throughout the country.
Soda Chanh (Lime Soda)
Soda chanh hits the spot on a steamy day: essentially, it's a fizzy homemade limeade that's usually served partially prepared. You're served a glass full of ice with sugar and sometimes lime juice in the bottom, with the can of club soda on the side. Sometimes you're given a glass of ice and sugar and a little dish of lime wedges so you can squeeze your own juice into the glass.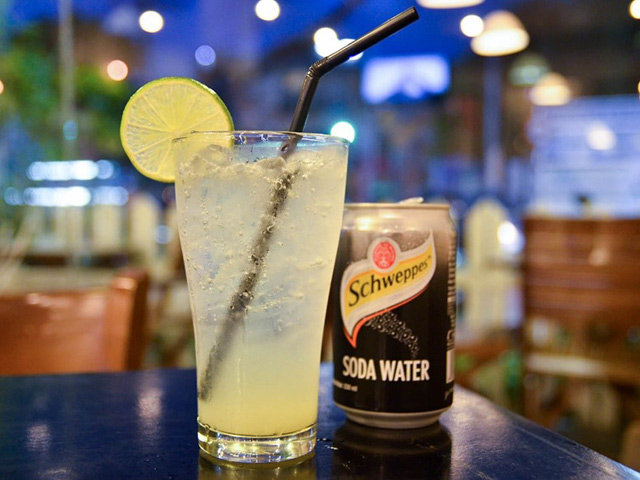 Bia (Beer)
Many Vietnamese beers are only available in their home region, so your options will vary depending where you travel. In the southern hub of Ho Chi Minh City, formerly known as Saigon, the local beers are Saigon Red, Saigon Special and 333, all lightly hopped and slightly sweeter than beers from other parts of the country. In the central region of Vietnam, the local beers are Huda (the name combines the words Hue, Vietnam's former Imperial capital, and Denmark), and Bia La Rue, a slightly more bitter beer believed to have originated from a French recipe.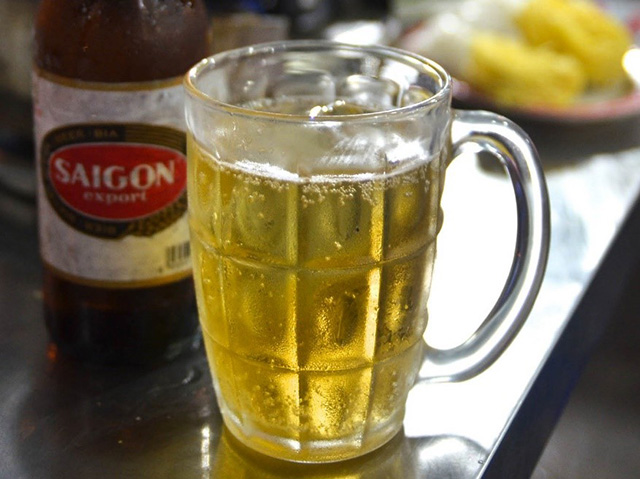 A visit to Hanoi is not considered complete without a pilgrimage to Bia Hoi Corner (at the junction of Luong Ngoc Quyen, Ta Hien and Dinh Liet) to try bia hơi (fresh beer), a low-alcohol draft beer with a clean, crisp taste.
Rượu Nếp Cẩm (Sticky Rice Wine)
Rice wine, which clocks in at around 29.5% alcohol, is the traditional masculine tipple and drinking it is a social activity (a very social activity). Groups of friends will gather to drink rice wine out of a communal shot glass or two.
A range of wonderful snacks such as spicy squid jerky and barbecued meat or seafood usually accompanies this type of drinking session. Sticky rice wine (rượu nếp cẩm) is smoother and sweeter than the regular rice wine, which can be quite fiery.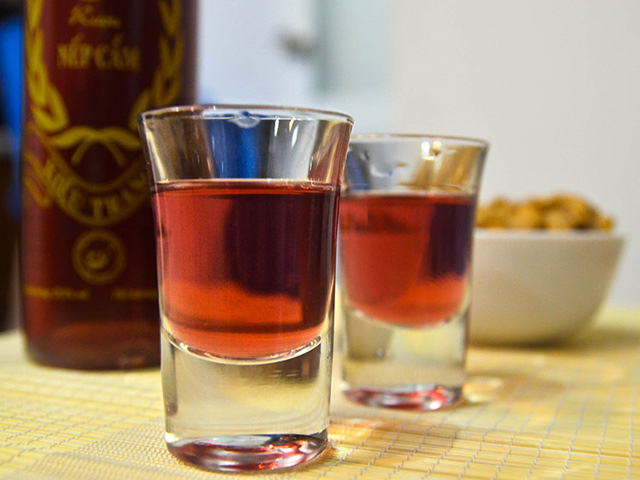 Neither should be confused with rượu thuốc, "medicine wine", which is rice wine bottled with medicinal items which run the gamut from whole cobras, cuckoos, and seahorses to vegetarian options containing only herbs.
Cà Phê (Coffee)
Local coffee beans are roasted with butter and fish sauce to bring out chocolate notes in the final brew. Vietnamese coffee is prepared using a small metal drip filter, and is most commonly served over ice. You can't walk a block of any street in the country and not see someone enjoying a coffee in one form or another.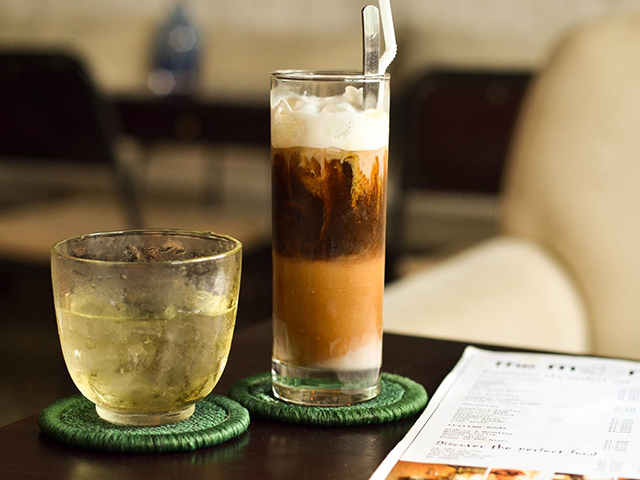 The two most popular ways to drink local coffee are cà phê sữa đá (iced coffee with condensed milk) or cà phê đá (iced black coffee). Note that unless you specifically request "không đường" (no sugar) or "ít đường" (a little sugar), the black version will come with four or five teaspoons.
You can also get your caffeine fix with a yogurt coffee or the Hanoian specialty, egg coffee, made with whipped egg yolk. 
Source:seriouseats
HOW CAN WE HELP?
NEED HELP 24/7
Wordwide phone support

How it works ?
APPLY WITH CONFIDENCE
Safety, Fastest, Reliable, Save Time.
Secure Online Payment.
2 Working Days Guarantee.
No Hidden Fees and No Traps.
Money Back Guarantee if Declined.